URSA Mini Pro cameras are "three cameras in one" because they combine high end digital film quality with the features and controls broadcasters need. They're ideal for any kind of work from high end feature films, television shows and commercials, toindependent films, broadcast news, and even studio and live production! URSA Mini Pro cameras go beyond standard Ultra HD broadcast quality because they give you 4.6K resolution with 15 stops of dynamic range. Plus, the super wide color gamut and Blackmagic Design Generation 4 color science give you incredibly accurate skin tones andstunning, lifelike color so you always capture cinematic quality images. The super compact body features broadcast camera controls and advanced operating software that make it faster to set up and use than any other camera! Whether you're on set, onlocation or shooting run and gun, URSA Mini Pro has theimage quality and features you need to work on any typeof project!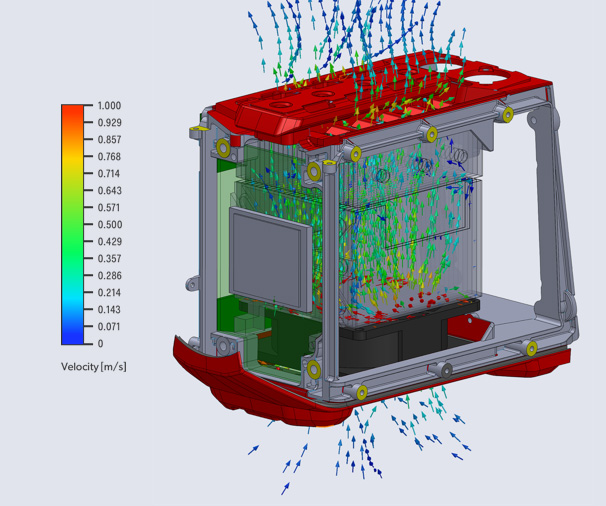 Cinematic 4.6K Sensor
Capture incredible digital filmimages with 15 stops of dynamic range!
When it comes to image quality, URSA Mini Pro 4.6K G2 operates at a higher resolution and dynamic range that is well beyond traditional motion picture film! You get a 4.6K image sensor that captures up to 4608 x 2592 pixels, which is bigger than full size DCI 4K! The sensor features a massive 15 stops of dynamic range and support for up to 3200 ISO, making URSA Mini Pro models perfect for high dynamic range (HDR) projects. Built in active refrigeration ensures maximum dynamic range and low noise, so you get incredibly clean pictures with amazing detail in both the dark shadows and bright highlight areas. In addition, URSA Mini Pro 4.6K G2 supports high frame shooting at up to 300 frames per second and even better color fidelity! You can also choose the lower cost URSA Mini 4K model with 12 stops of dynamic range when you don't need the performance and are on a tighter budget.

Familiar Broadcast Control
Quickly change settings withouttaking the camera off your shoulder!
Like the world's best broadcast cameras, URSA Mini Pro 4.6K G2 features independent controls for direct access to the most important camera settings. Buttons, switches and dials are laid out in a logical order that makes them easy to find by feel while using the viewfinder. This means you'll be able to adjust settings, add an ND filter or even change frame rate without having to fold out the touchscreen or take the camera off your shoulder.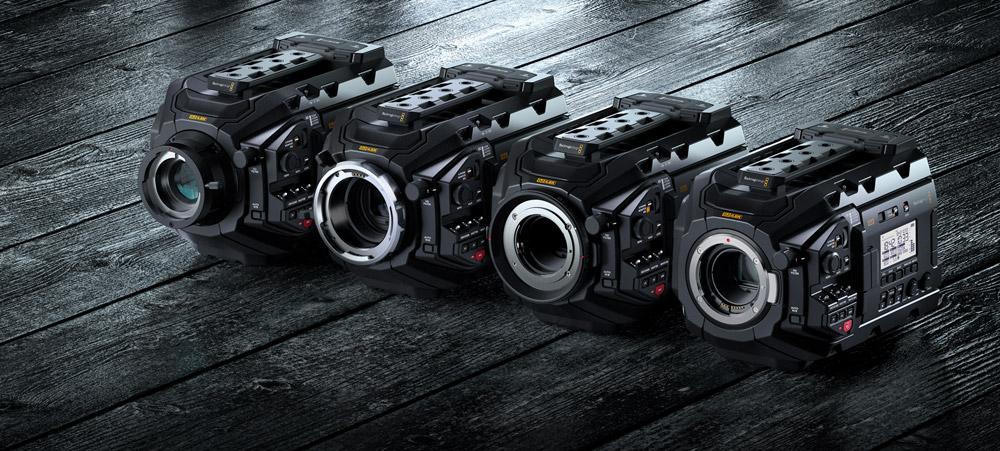 Interchangeable Lens Mounts
Compatible with EF, PL, B4 and F mount lenses!
Different projects require different lenses, whichiswhy URSA Mini Pro models feature an interchangeable lensmount. Imagine shooting regular work using a photography lens but then being able to change to aPLmount cinema lens ifyou get a high end film job. URSA Mini Pro makesthat easy because you can quickly switch betweenEF, PL, B4 and F mount lenses, making it compatible with the widest possible range of professional lenses. That means you can work with high quality EF or F mount photographic lenses, large PL cinema lenses, and even B4 broadcast lenses, all with the same camera! URSA Mini Pro comes standard with an EF mount. Additional optional PL, B4 and F lens mounts can be purchased separately. With URSA Mini Pro, yougeta single camera that works with virtually all professional lenses so you can choose precisely the lens you need!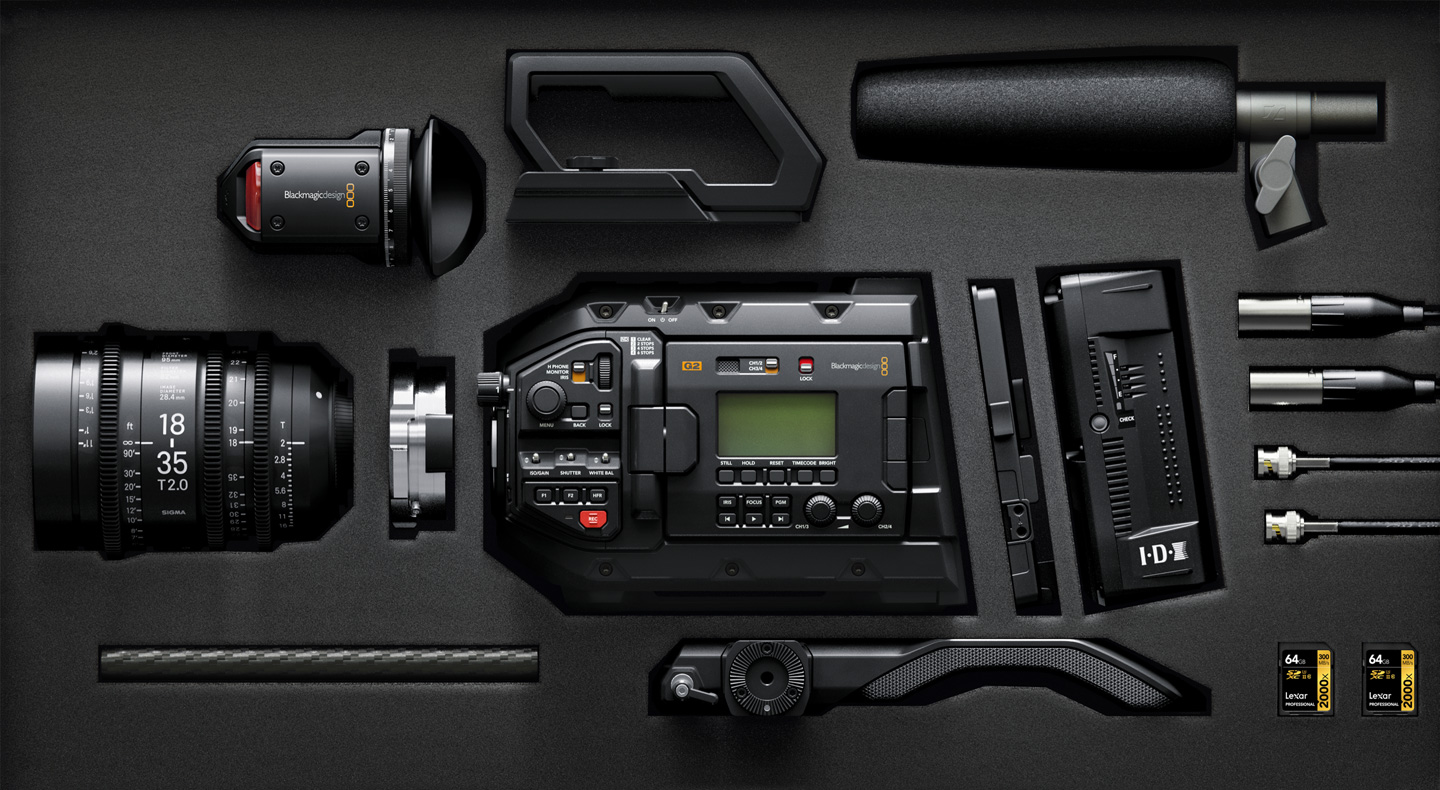 Highly Customizable
Flexible enough to be rigged for any production
Blackmagic URSA Mini cameras are completely customizable so you can create a rig that's built specifically for your production! You can add accessories like the Blackmagic URSA Viewfinder, URSA Studio Viewfinder, URSA Mini Shoulder Kit and URSA Mini Mic Mount, or choose from hundreds of third party accessories. URSA Mini and URSA Mini Pro have 9 standard ¼" threaded mounting points on the top and bottom of the camera so you can mount it directly to a tripod aswell as add accessories such as rails, sliders, matteboxes, microphones, ring lights, batteries and more. Whether you're building a feature film rig or outfitting the camera for an ENG style shoot, URSA Mini has all of the mount points and connections you need!
Professional Connections
Full size, durable connections that work with standard cables
Blackmagic URSA Mini Pro models feature multiple connections such as 12G‑SDI out, HD-SDI monitoring out, 2 LANC inputs, balanced XLR audio with phantom power, timecode in and reference input. On the front right side of the cameras is a 12 pin Hirose control connector for broadcast lenses. There's also a 4 pin XLR DC output and an HD-SDI monitoring output that are located in the perfect position for connecting an optional viewfinder or on set monitor. The12G‑SDI output handles all formats up to 2160p60 using a single BNC cable, and also switches to 6G‑SDI or HD‑SDI depending on the shooting format.

Professional Audio
Built in production quality sound recording
URSA Mini Pro models have a high quality microphone and professional audio recorder built right in so you don't have to carry around extra sound equipment! Use the built in stereo microphone to record natural location sound or connect professional microphones using the two XLR wide dynamic range mic inputs. The XLR connections have 48V of switchable phantom power so you can plug in everything from shot gun to wireless clip on mics for capturing every detail of the performance. You can quickly adjust levels using the external knobs and monitor audio using the onscreen audio meters.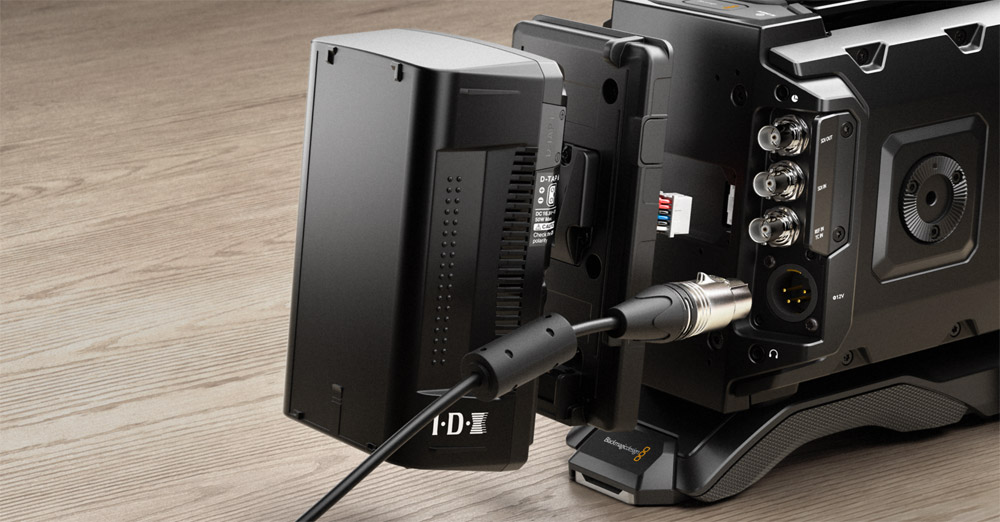 Flexible Power
Compatible with industry standard batteries and power
URSA Mini Pro and URSA Mini cameras include a 4-pin XLR industry standard power connector that works with 12V to 20V external power supplies. That means it's easy to use thecamera with all of your existing power supplies and batteries! All URSA cameras use the same battery power connector and mounting points on the rear of the camera soyou can use a wide range of battery plates from manufacturers such as IDX, Blueshape, Anton Bauer and more. You can also add the optional Blackmagic URSA VLock Battery Plate or Blackmagic URSA Gold Battery Plate for using popular V‑Mount and Gold Mount batteries.