Item is brand new in the box. Available for PRE-ORDER only.

Teranex AV
is specifically designed with new features for live events and professional AV installations, as well as broadcast and post production workflows. You get 1,089 up, down, cross and standards conversions for all formats up to 2160p60, along with Teranex's patented algorithms and legendary image quality. Teranex AV offers low latency, and features a still store for adding logos and graphics, a live freeze frame and can generate a reference signal. You get professional 12G-SDI and quad SDI connections which can be used simultaneously, consumer HiFi, XLR audio, HDMI in, loop and outputs, and more! There are even metal brackets at the rear to prevent cables and connections from getting damaged when installed in tight locations!
---
Mandated by broadcasters everywhere, Teranex is the world's most trusted name in standards converters!

Teranex converters are the ultimate SD, HD and Ultra HD standards converters, and give you the quality and speed mandated by broadcasters worldwide. You can choose from models that give you up to a massive 1089 conversions, a wide range of broadcast connections, low latency processing, HDMI loop through and more! You get up, down, cross and standards conversions between virtually all SD, HD and Ultra HD formats and frame rates, including 3:2 cadence removal and insertion! Featuring advanced patented algorithms, Teranex converters give you visually transparent, high quality conversions in full 10-bit quality, complete with audio, closed captions, timecode and more!
---
1089 Conversions
More SD, HD and Ultra HD up, down and standards conversions!

Teranex Express and Teranex AV can perform 1089 different conversions between SD, HD, and Ultra HD in real time with visually transparent results that are so good you won't be able to see a difference from the original! The incredible power of Teranex processing includes up and down conversions, cross conversions and standards conversions with cadence detection, removal and insertion, optical quality scaling, and more. Conversions retain timecode, ancillary data including closed captioning, 16 channels of audio with support for remapping and up to 1 second delay, and perfect frame synchronization so your video is immediately ready for editing or broadcast.
---
Advanced HDMI Processing
Convert HDMI to SDI without additional hardware!
With Teranex AV you also get HDMI input, loop through and outputs for the ultimate in flexibility at live events! That means you can do HDMI to SDI conversions without needing external adapters or conversion equipment! Regardless of your input format, you can loop out via HDMI to send the signal to a big screen projector while simultaneously converting and sending the signal to downstream equipment likes decks and monitors. You can even take the audio from AES, analog and RCA HiFi inputs and embed it into both HDMI and SDI during the conversion process!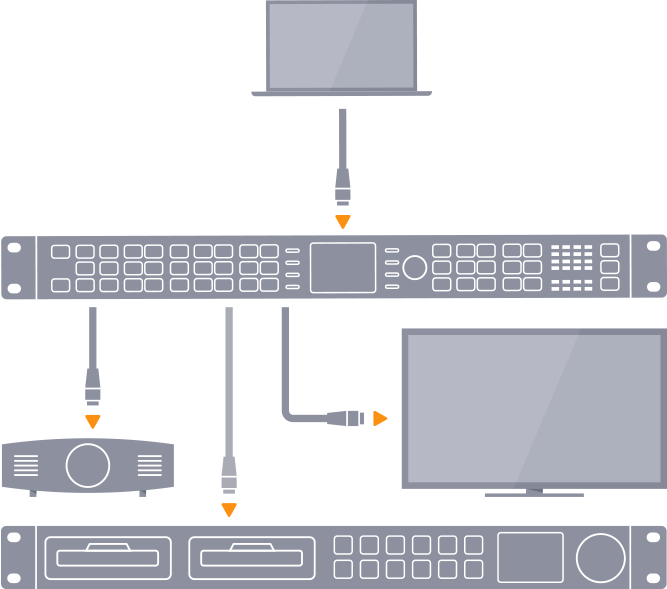 ---
Low Latency for Live Conversions
Convert and output signals in milliseconds!
Teranex AV offers very low latency for such complex conversions, making them perfect for use in live production and events! With latency as low as 67ms, you can use Teranex AV at live concerts and other events to project live cameras onto massive screens in the venue. The low latency means people such as speakers, ministers or musicians can be projected onto screens in synchronization with the live event. Imagine, seeing a close up of a virtuoso pianist as their fingers fly across the keys on a big screen projector in sync with the live performance!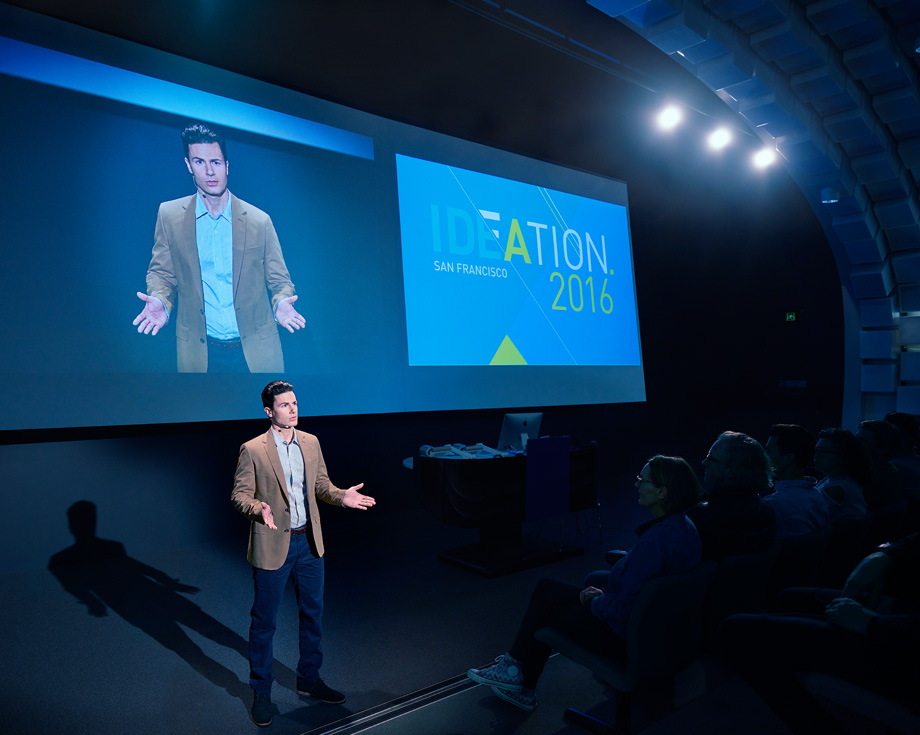 ---
Freeze Frame
Hold any frame on screen until you're ready to switch outputs!
Teranex AV can also temporarily hold any current frame on the screen until you switch to another video output, a black frame, or the still store. This makes Teranex AV ideal for conferences and events where you might need to make a change without the audience seeing it on screen. For example, you can hold on a slide while the presenter makes changes to their presentation in the background. The freeze frame and still store on Teranex AV are great features that let you always have something to show on screen while you switch over to the next presentation!