ATEM Mini is perfect for educational videos! Setup is fast and easy, so you can travel to locations and record live multi camera video productions on a wide range of educational topics! Connect computers and cameras and use the ATEM Software Panel to load titles and perform video effects.
With 4 independent HDMI inputs, you can connect up to 4 high quality consumer video cameras. Video cameras with HDMI outputs are dramatically better quality than simple webcam cameras as they use higher quality lenses plus have much better low light sensitivity. All connected sources will re‑sync to the switcher if they operate at different video standards, which means all inputs just work and you can handle unknown equipment if you are visiting new venues or locations.Because cameras with HDMI often support interchangeable lenses, you can change to wide angles lenses for wide shots and zoom lenses for closeups. Imagine using the low light capability of professional cameras for theater production and music videos!
Outputs to HDMI Video
and USB Webcam!
To ensure the maximum compatibility possible, ATEM Mini features a USB connection that operates as a simple webcam source. That means you can plug in and instantly get working with any video software. The software is tricked into thinking the ATEM Mini is a common webcam, but it's really a live production switcher! That guarantees full compatibility with all software in full resolution 1080HD quality. Choose any software you like, such as Open Broadcaster for live streaming, or Skype for point to point presentations. ATEM Mini works with software and platforms such as Open Broadcaster, XSplit Broadcaster, YouTube Live, Facebook Live, Skype, Twitch TV, Periscope, Livestream, Wirecast and more!
Live Stream via Ethernet on ATEM Mini Pro
The ATEM Mini Pro model has a built in hardware streaming engine for live streaming via its built in Ethernet connection. That means you can live stream to YouTube, Facebook and Twitch in better quality, without dropped frames and with much simpler settings. Just select the streaming service and enter the streaming key! There are palettes in ATEM Software Control for streaming setup and status, plus streaming status is also displayed in the multiview. Streaming status is easy to understand as the data rate indicator shows internet speed required for the video format you're using. If you're technically minded, you can even hack the detailed streaming profiles in the XML preference file and load new services.
Record Direct to USB Flash Disks with ATEM Mini Pro
The ATEM Mini Pro model also supports direct recording of your streaming data to USB flash disks! That means you get very long recordings in the same H.264 video files with AAC audio that you streamed, so you can direct upload to any online video site, such as YouTube and Vimeo. ATEM Mini Pro supports multiple disks when used with a USB hub or Blackmagic MultiDock, so when a disk fills recording can continue to a second disk for non-stop recording. Record settings and disk selection are set up in ATEM Software Control and there's a record status view in the built in multiview. You can even trigger recording on external Blackmagic Pocket Cinema Cameras!
Add Exciting Video Effects
One of the benefits of ATEM Mini is the professional production values that are possible using the range of built in video effects! The cut button ensures an instant cut when switching between sources. The auto button is a professional term that's used on large broadcast switchers to enable video effects transitions. There are also duration buttons for video effects allowing 0.5, 1, 1.5 and 2 second settings. You can also select the type of effect you want including fade which does a smooth transition between sources and dip which fades via a color during the transition. Or use fun DVE effects that move the image off screen when transitioning between sources!
Record to Video
for YouTube Uploads
The HDMI program output is perfect for connecting ATEM Mini into an external recorder or monitor! Supports recorders such as the HyperDeck Studio Mini and Blackmagic Video Assist. You get a high quality output with switcher program video, plus live audio from the internal audio mixer. The HDMI output can even be connected to video projectors in large venues. If you connect the ATEM Software Panel you can even change the HDMI output direct from any of the video inputs. There's also a low latency setting allowing output of connected gaming consoles on the HDMI output. If you enable broadcast style mix effects switching, the HDMI output can be used to preview sources before a transition.
Work with Professional Microphones
With two independent 3.5mm stereo audio inputs, you can connect desktop and lapel microphones. You can even connect a music player to generate introduction music after the live stream commences but before the program starts. With 2 extra stereo audio inputs, you can ensure a host and the guest both have lapel microphones when doing interviews. All audio inputs to ATEM Mini include buttons on the panel for adjusting audio level and enabling inputs into the audio mixer. ATEM Mini features a full Fairlight audio mixer and all HDMI audio inputs and both microphone inputs are all connected separately to the audio mixer so you can live mix from all audio sources.
Secret Broadcast
Features Built In!
ATEM Mini has an easy to use front panel, however it's also hiding very powerful broadcast features, allowing a true broadcast production workflow. If you are interested in a career in the television industry, then ATEM Mini is perfect for training as it has the same features as switchers in high end broadcast studios. You get a full ATEM Advanced Chroma Key, a Fairlight audio mixer, full DVE, still store for graphics and much more! Simply run the free ATEM Software Control app on Mac or Windows while connecting via USB or Ethernet to access the extended features of the ATEM Mini. With a little experimentation you can learn how to produce broadcast quality live production. Only ATEM Mini is a true broadcast switcher hidden in a tiny and affordable design!
Includes Free
ATEM Software Control Panel
The ATEM Software Control app unlocks the hidden power of the ATEM Mini as you get total control over the switcher features, plus the software is included free for Mac and Windows! ATEM Software Control features a visual switcher user interface with parameter palettes for making quick adjustments. Although you can normally connect via USB, if you connect using Ethernet it's possible for multiple users to connect to ATEM Mini using separate copies of ATEM Software Control on different computers! The software lets you access full audio mixing with effects, load still frames and even advanced macro programming! You can save the switcher state as XML files! If you need clip playback, you can even control HyperDeck disk recorders via Ethernet.
DVE for Picture in Picture,Transitions and Effects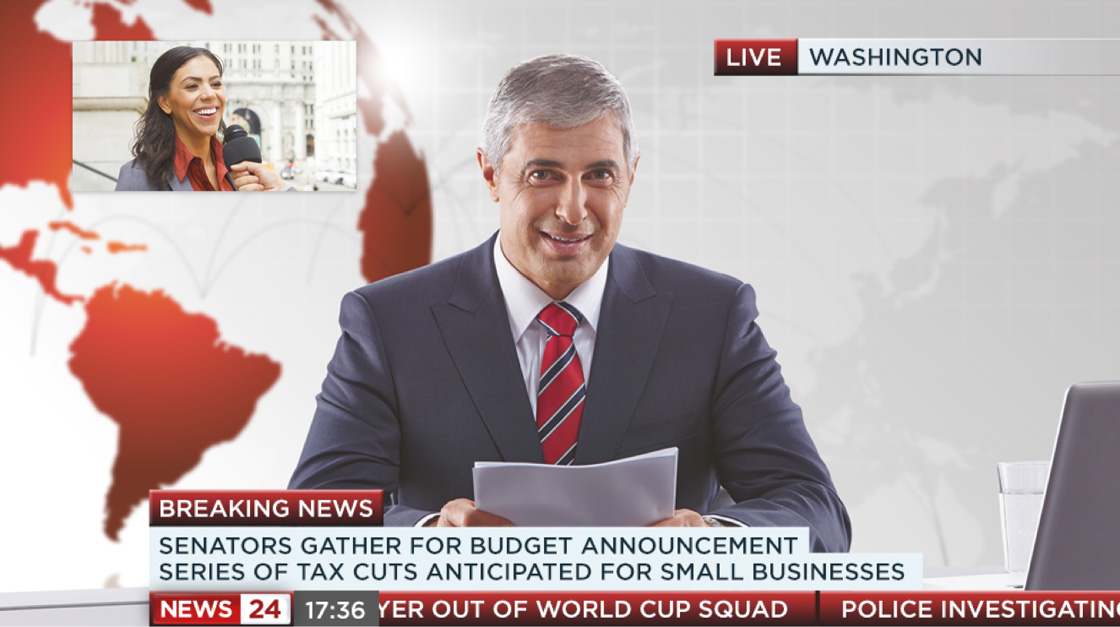 ATEM Mini features a full HD digital video effects processor, commonly referred to as a "DVE", that allows picture in picture effects and DVE transitions. The DVE lets you create professional picture in picture effects with customizable 3D borders, shadows and lighting. The image quality is the same as high end ATEM model switchers and the DVE supports position, resize and scale, all in real time. The DVE can also be used to create amazing transitions with 8 different DVE squeeze and DVE push effects for adding excitement to your programming. The DVE features a "fly key" so you can use it with custom graphics to create graphic wipe transitions!
Professional
Broadcast Transitions!
ATEM Mini includes a wide range of broadcast quality HD native transitions such as mix, dip, wipe and more. All transitions can be customized by adjusting parameters such as duration, border color, border width, position and direction. You can also use the DVE in transitions, allowing a graphic to be moved over the wipe edge which is called a graphic wipe, and is used in sports programming. To eliminate errors, ATEM Mini has a preview transition feature so you can check your transitions before putting them to air!
Built‑in Graphics
with Photoshop

Plug‑In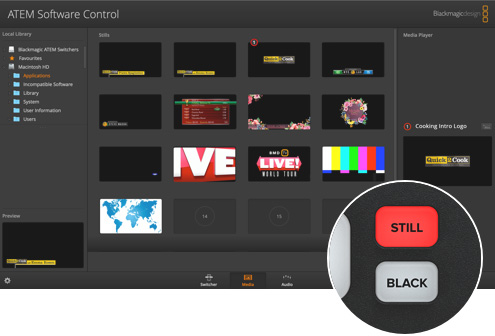 The built in "media pool" allows loading of up to 20 separate broadcast quality RGBA graphics for titles, opening plates and logos. A single media player is used to output the selected graphic so it appears as an extra internal video input, meaning you don't have to waste any of the physical HDMI video inputs for graphics. You can even use still frames for complex effects such as graphic wipes. You can easily manage the still store graphic using the included ATEM Software Control app, or you can download directly from Photoshop software using the ATEM Photoshop plug‑in. ATEM Mini can even grab stills from the video output and add them to the internal media pool. The Photoshop Plug‑in is perfect for graphics that need to change often, such as scoreboards, as you can update the text and download directly into the switcher, allowing graphics to get on‑air fast!
Includes New ATEM Advanced Chroma Key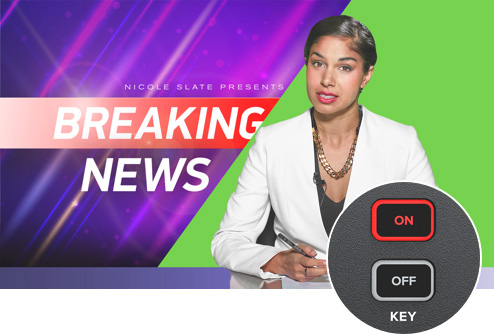 For news or on-set presentation work, ATEM Mini is the perfect choice as it features an ATEM Advanced Chroma Key for high quality chroma or luminance keying, plus an additional downstream linear keyer! The chroma keyer is incredibly powerful and features a color picker to sample background colors for automatic generation of the key parameters. You get precise controls for edge and flare, and there is even a foreground color corrector so you can match the "look" of the foreground layer to the background layer making seamless compositions possible. The keyer can also be used for pattern and DVE keying allowing incredible versatility. You can even use it for title overlays simply by using PowerPoint or other software with a green or blue background and the keyer will knock out the green and make the background transparent.
True Broadcast Style
Mix Effects

Switching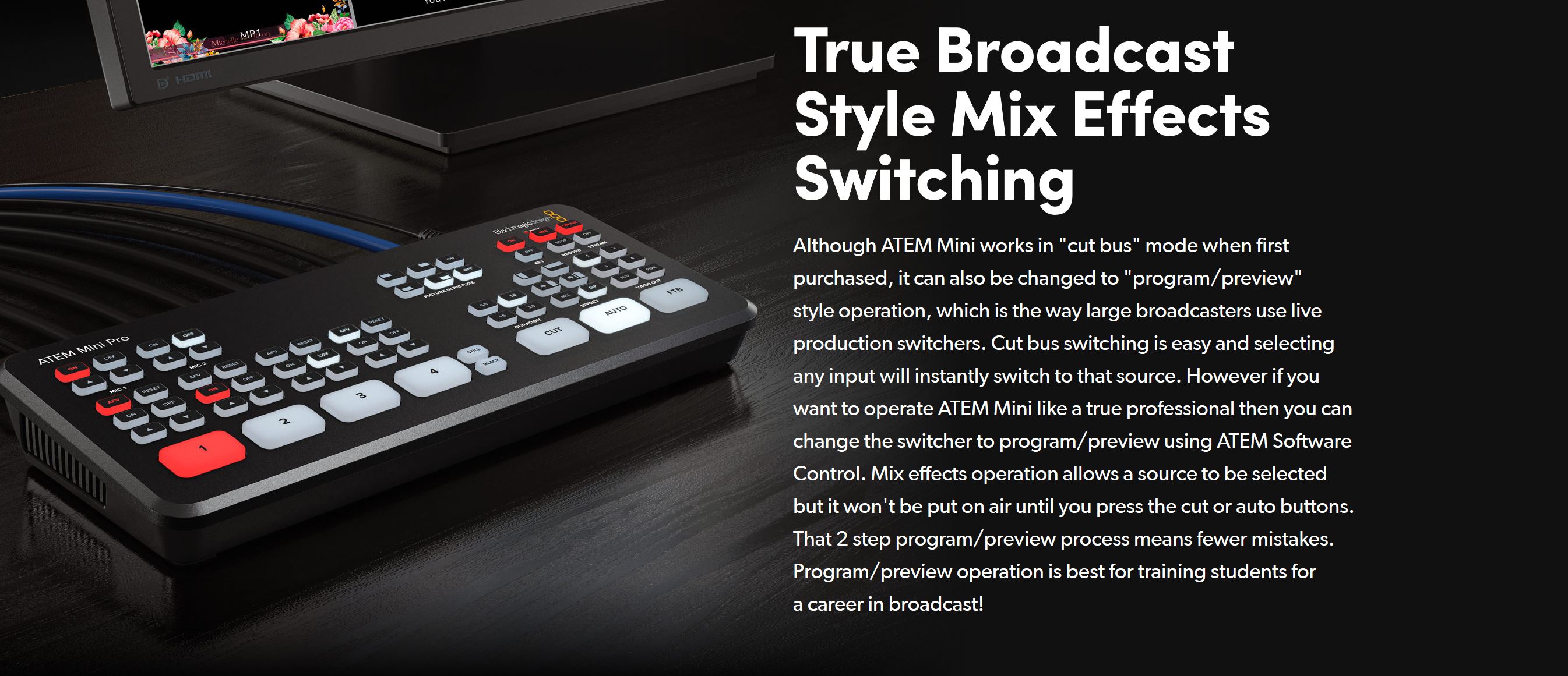 Monitor Sources and Status with ATEM Mini Pro Multiview!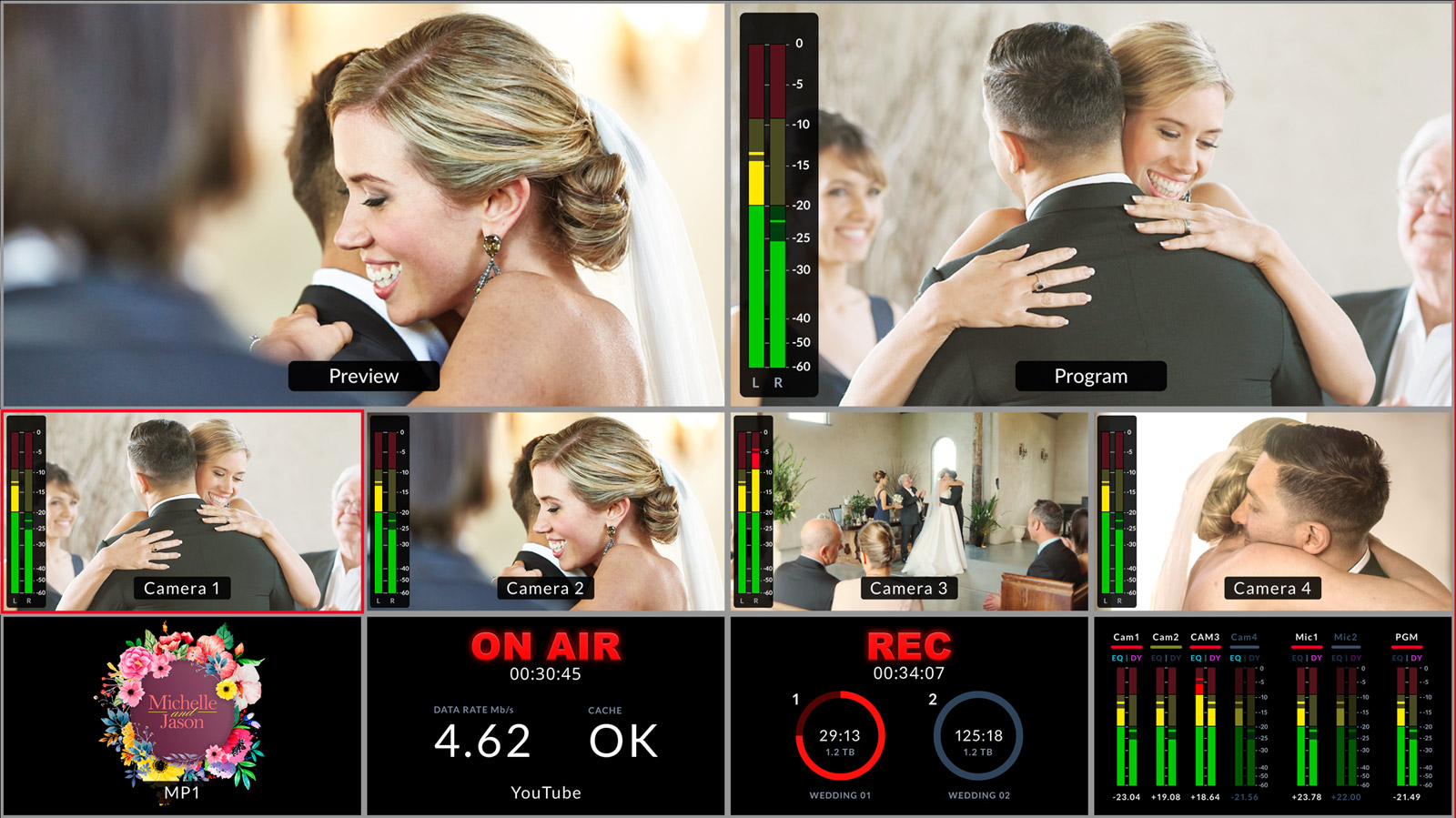 When doing larger live productions with multiple cameras, it's very useful to see all your video sources at the same time on a single monitor. The ATEM Mini Pro model includes a professional multiview that lets you see all 4 video inputs, plus preview and program on a single HDMI television or monitor! Simply select M/V on the front panel video output control buttons to select multiview! Each camera view includes tally indicators so you know when each source is on-air, and each view also has custom labels and audio meters. You can also see the media player so you know what graphic is selected. Plus multiview even includes status for recording, streaming and the Fairlight audio mixer!
Built In Professional Audio Mixer with 6 Band EQ, Compressor and Limiter

With a built in Fairlight audio mixer, the ATEM Mini makes it possible to do extremely complex live sound mixing. The internal mixer features a total of 12 channels so you get the ability to mix audio from all sources! 8 mixer channels are de-embedded from the HDMI inputs, while an extra two stereo audio channels are input via the 3.5mm microphone connections on the rear panel. Each input channel features the highest quality 6 band parametric EQ and compressor, limiter, expander and noise gate as well as full panning. You can even set up the software to auto mix between inputs as you switch "AFV" or to live mix multiple sources together all at once. All this audio power can be controlled via the ATEM Software Control app, or you can add a Mackie compatible panel or even a massive Fairlight Audio Console!
Use Ethernet Control for Wireless Internet Streaming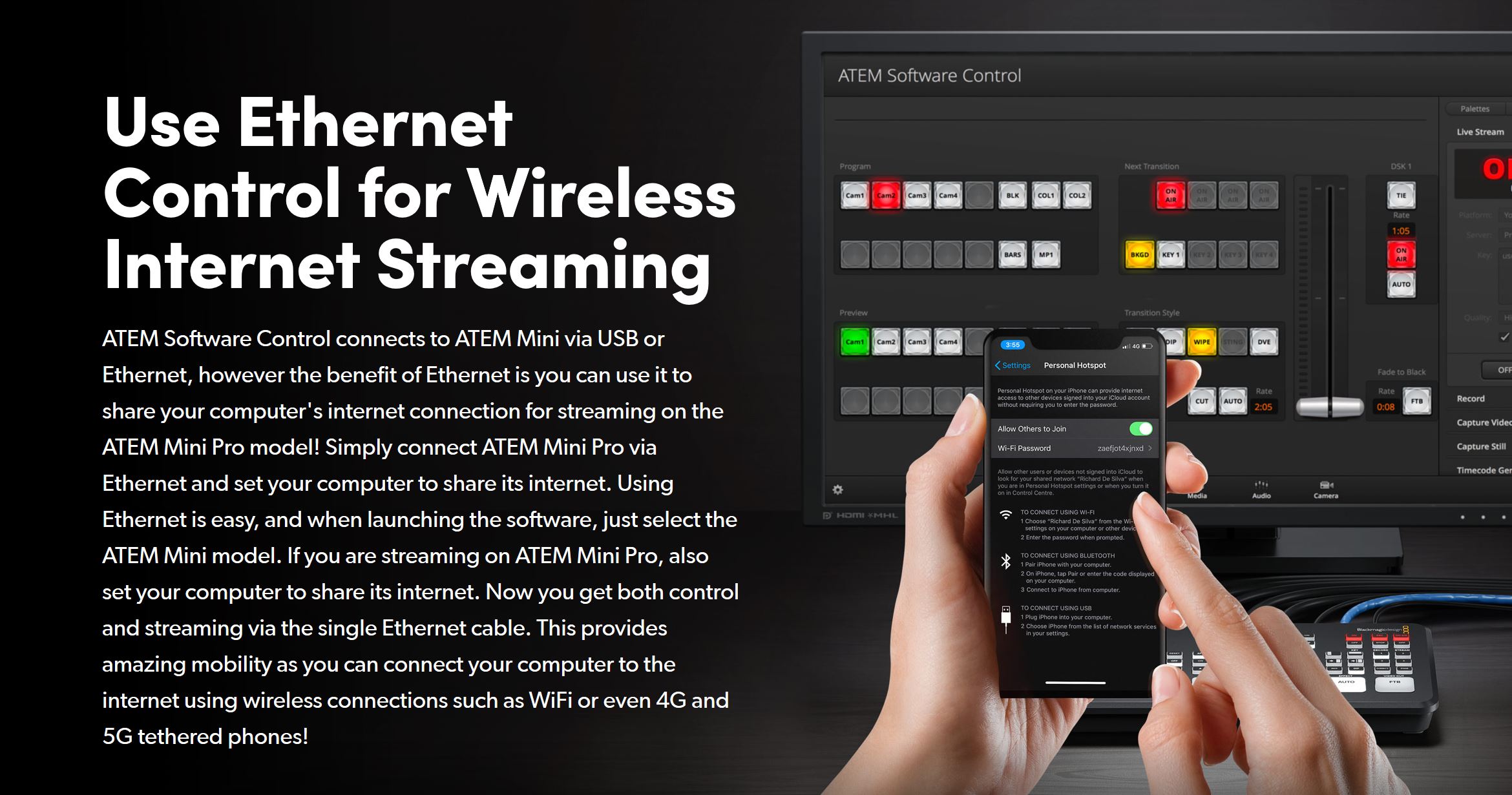 Control and Color Balance Cameras!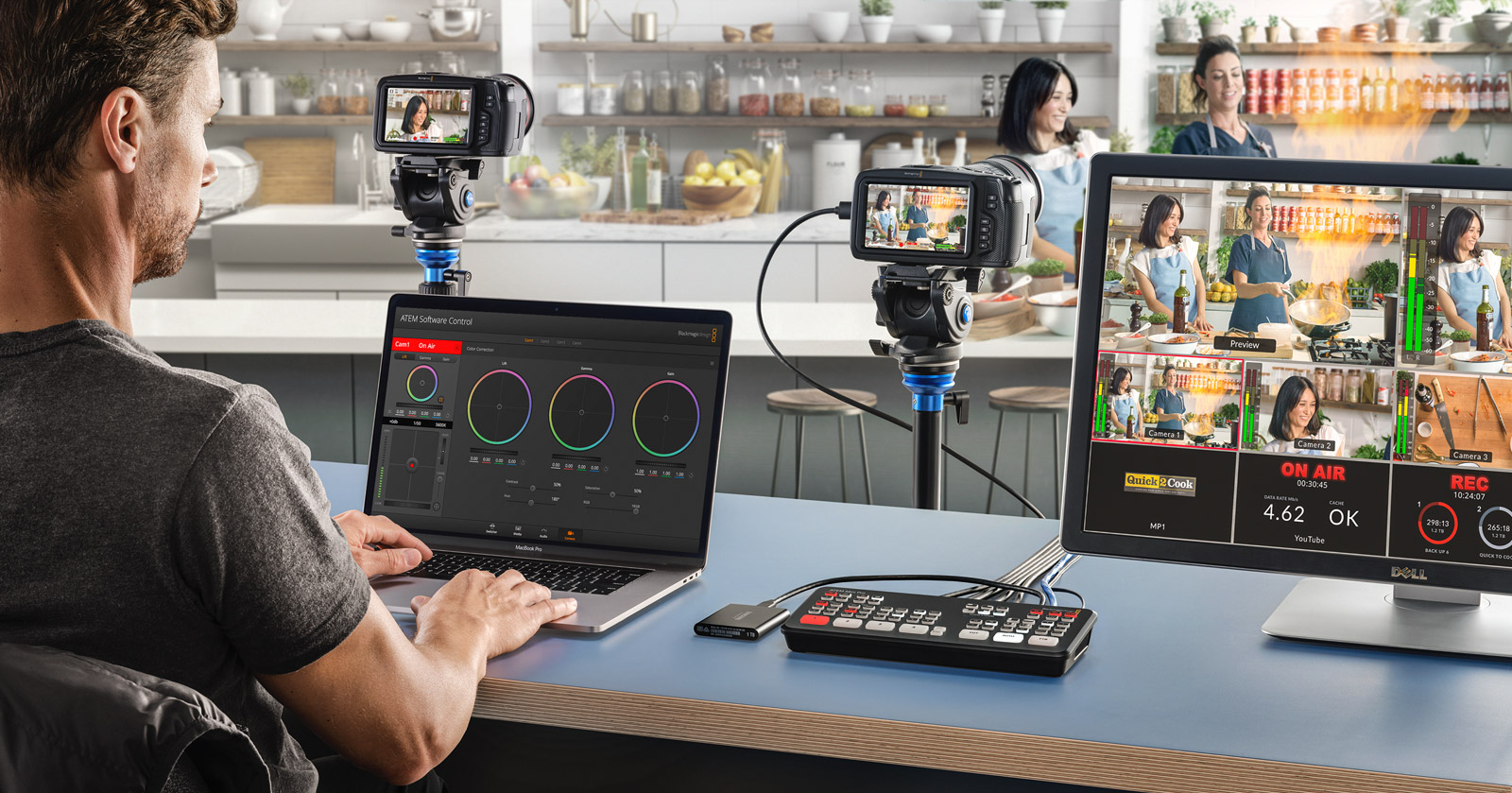 For a more broadcast style workflow, you can remote control your cameras from ATEM Mini! Blackmagic Pocket Cinema Camera 4K and 6K models can work as studio cameras with control sent via the HDMI connection to ATEM Mini. That means you can control the camera settings as well as the camera's color corrector from ATEM Software Control. Imagine changing ISO and tint, plus lens iris, focus and zoom, so camera operators can focus on the shot! There are two types of control interface, CCU layout for traditional tint color control and a DaVinci color corrector interface allowing the camera's built in DaVinci color corrector to add incredible digital film "looks" to your live production!
Develop Custom Remote Control Solutions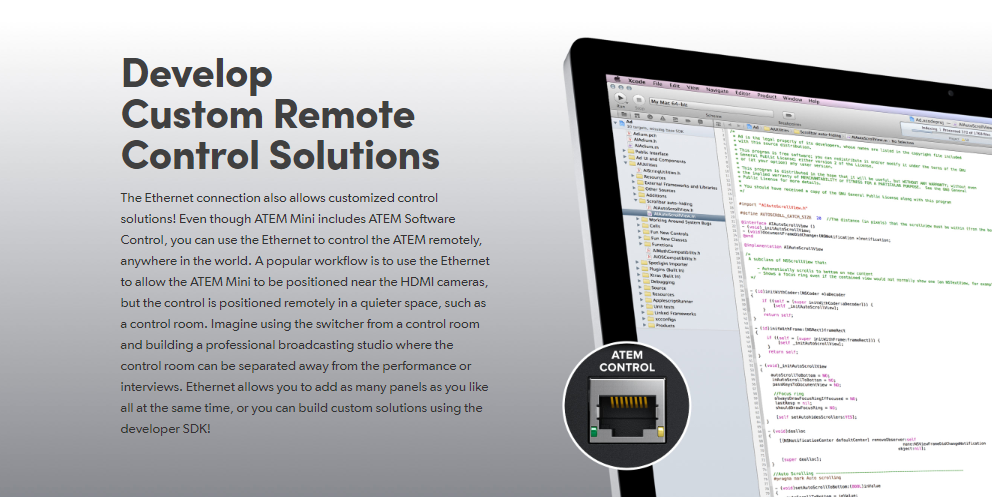 Record to an External HyperDeck Recorder!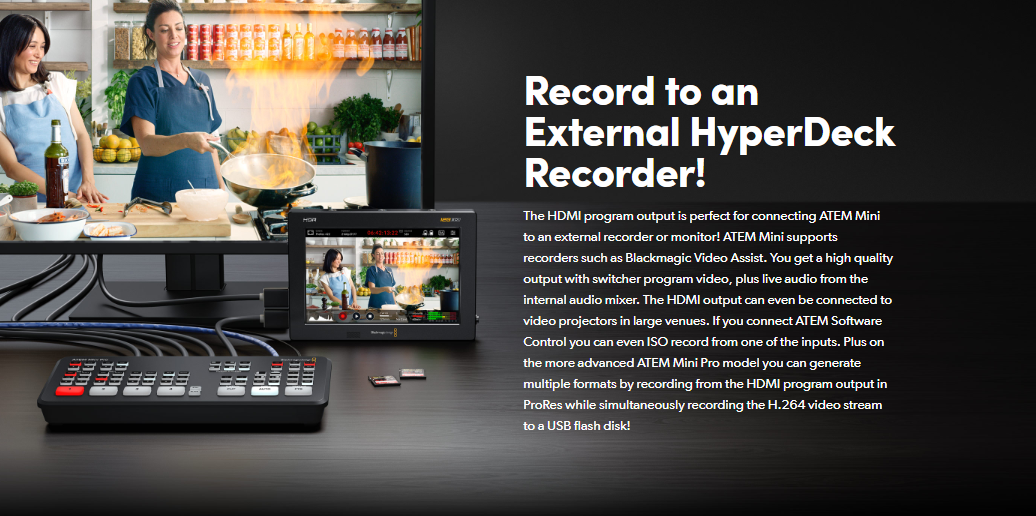 Automatically Convert
HDMI Input Formats
You get 4 independent HDMI inputs, with each input featuring its own dedicated up and cross converter. That means ATEM Mini will automatically convert 1080p, 1080i and 720p sources to the video standard of the switcher! By default the switcher will set its video standard automatically, however you can also change the switcher to a specific video standard, to ensure compliance with local broadcast standards. The HDMI output is a true "aux" output so you can clean switch each of the 4 HDMI inputs or the program feed to this output. You can even "direct" switch input 1 to the HDMI output for low latency for eSport. If you select broadcast style mix effects switching, you can also output a preview feed, allowing verification of the source before transitioning to it.
Switch Faster with an ATEM 1 M/E Advanced Panel
With Ethernet built in, ATEM Mini can use hardware control panels for high end workflows that take advantage of the hidden broadcast features in the switcher! The ATEM 1 M/E Advanced Panel features the fast program/preview style with separate source buttons for both program and preview rows. Get direct access to all transitions automatically or manually using the t‑bar. For accurate control of the DVE the joystick provides X, Y positioning with rotation setting DVE size. You also get LCD menus to control features that don't have dedicated knobs and buttons. You can even program and trigger Macros! Plus you can use ATEM 1 M/E Advanced Panel later if you upgrade to a bigger ATEM switcher!
Upgrade to the Power
of an ATEM

Hardware Panel
With Ethernet built in, ATEM Mini can take advantage of the wide range of ATEM control panels, making possible high end workflows that take advantage of the hidden broadcast features in the switcher! ATEM hardware control panels feature a fast program/preview style which is the industry standard for switcher control. All transitions have direct access buttons and a t‑bar is included when performing manual blending of transitions. For accurate control of the DVE, a joystick provides X, Y positioning and rotate for DVE size. Then you can use the LCD menus to control features that don't have dedicated knobs and buttons. You can even set up and trigger Macros right from the panel! Upgrading the ATEM Mini with a professional control panel such as the ATEM 1 M/E Advanced Panel means you are able to use professional techniques and you'll never be limited creatively!